Delhi - Amritsar - Wagah Border -Kurukshetra - Delhi
Duation : 01 Night / 02 Days
Destinations : Delhi - Amritsar - Wagah Border - Kurukshetra - Delhi


Every Wed. & Fri. : Dep. 10.00 PM
Arr. Fri. & Sun. 10.00 AM

Place to Visit :
- Golden Temple
- Jalianwala Bagh
- Wagah Border
- Kurukshetra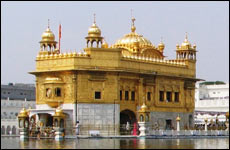 Amritsar : The Sikh Guru, Guru Ram Das, founded Amritsar, meaning 'a pool of nectar'. It has grown from a sacred village pond into a spiritual temporal centre of Sikh culture. Amritsar is the soul of Punjab and today it is India's important distribution centre of dry-fruits. It is one of the most ancient and fascinating cities of India. It is also the city where Jallianwala Bagh, the garden where scores of innocent Indian people were massacred by the British. Amritsar is an institution by itself.


Golden Temple : Har Mandir Saheb, popularly known, as the Golden temple is the holiest shrine for the Sikhs, so called because the entire upper half was inlaid with copper covered over by gold plate. The architecture of the Golden Temple, is a blend of Hindu and Muslim styles.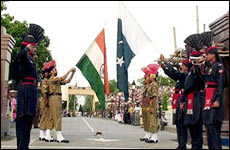 Wagah Border : The final frontier, Wagah about 28 kms. from Amritsar is the only border crossing between India and Pakistan. It's an interesting experience especially at sunset when the 'Retreat' ceremony takes place with the BSF on the Indian Side of the Border. The changing of the guards and the ceremonial lowering of the flags ceremony is carried out with great pomp.


Jallianwal Bagh : Nearby is the Jallianwala Bagh (a memorial), where during the British rule in India, General Dyer opened fire on innocent people causing a massacre on 13th April 1919. The place is now a national monument. Its walls bears the bullet marks of this tragedy.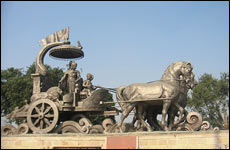 Kurukshetra : The ancient land of Kurukshetra is regarded as the birthplace of one of the greatest religions of the world, Hinduism. It is the land where the sage Manu penned his 'Manusmriti' and where learned 'rishis' compiled the Rig Veda and Sama Veda. Kurukshetra, named after the great sage king Kuru, is also the site of the epic battle of Mahabharata. It was graced with the visits of Lord Krishna, the Buddha and the Sikh gurus.







Schedule
Delhi Amritsar Wagah Border Kurukshetra Tour
Day-1 Delhi
Dep. 10.00 P.M.
Delhi to Amritsar 500 km. 10 hours
Night Journey
Day-2 Amritsar
Arr. 07.00 A.M.
Two hours rest & Sight Seeing
Golden Temple - Jalianwala Bagh & Wagah Border
Amritsar
Night Halt
Day-3 Amritsar
Dep. 07.00 A.M.
Amritsar to Kurukshetra
01.00 P.M.
Kurukshetra sightseeing
03.00 P.M.
Kurukshetra to Delhi
Tour concludes
Ac Delux Rs
Ac Volvo Rs
Transportation charges with accommodation on twin sharing basis
6,500/-
7,500/-
Transportation charges with accommodation on triple sharing basis
6,500/-
7,000/-
Child (Without Bed) 5yers-11 years
6,000/-
6,500/-
Transportation with accommodation on single sharing basis
7,500/-
8,500/-
(Tour Fare with Ac accommodation)

Delhi - Amritsar - Wagah Border -Kurukshetra - Delhi : Booking Form