Shimla - Manali - Chandigarh - Kurukshetra Tour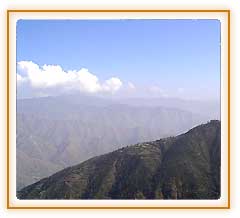 The capital city of Himachal Pradesh, Shimla is a quaint little hill station nestled in the Shivalik hills. The city derives its name from the name of Goddess Kali, Shyamala. It was discovered by the British for a perfect escape from the scorching heat of the plains. Shimla offers the picturesque set of its treasured natural gifts to its tourists, such as, pine clad hills, beautiful valleys and waterfalls. Shimla has its own colonial charm too.

Places to see :

The Mall : The mall that runs along the Ridge is the hub of Shimla. It is always crowded with tourists. It is the city's most famous shopping center, with shops selling all items, from clothes to junk food.

Rashtrapati Niwas : This six-storeyed Vice-Regal Lodge ( now Rashtrapati Niwas) was built in 1888 and was formerly the residence of Lord Dufferin, the British Viceroy. The style of architecture is English Renaissance and it has magnificent lawns. It presently houses the Indian Institute of Advanced Study.

Scandal Point : it is the State Museum of Shimla. built in 1974, it has a good collection of statues, miniatures, coins and photos from in and around Himachal Pradesh. a statue of the national leader Lala Lajpat Rai has been erected here.

Jhaku temple and Shymala temple : Jhaku temple is dedicated to Hanumanji, the loving devotee of Lord Rama. It is located near the highest point of the Shimla Ridge, and thus offers a panoramic view of the city. A temple dedicated to Shyamala Devi, an incarnation of Goddess Kali, is located near Grand hotel.
Manali 40 kms. away from Kulu to the north, Manali is situated near the end of the valley on the National Highway leading to Leh. The landscape here is breath taking. One sees well-defined snow capped peaks, the Beas river with its clear water meanders through the town. On the other side are deodar and pine trees, tiny fields and fruit orchards. It is an excellent place for a holiday, a favorite resort for trekkers to Lahaul, Spiti, Kinnaur, Leh and Zanskar regions in Kashmir valley. It is known as the SWITZERLAND OF INDIA.

MONUMENTS AND SIGHT SEEING SPOTS

HADIMBA TEMPLE:
Manali has many attractions but the chief centre of interest, historically and archeologically, is undoubtedly the DHOONGRI TEMPLE dedicated to goddess Hadimba, the Bhim of Mahabharat fame. It has four-tiered Pagoda shaped roof and the doorway is carved with legendary figures and symbols. This temple located amidst wooden forest of deodar is about 2.5 kms. from the tourist office. It is a pleasant experience to stroll in the temple complex which was built in 1533 A.D. A large festival is held here in May.

MANU TEMPLE:
3 kms. from the main bazar in old Manali lies the temple of MANU RISHI. It is believed that this is the only temple of Manu in India, who was the creator of human race on the earth.

CLUB HOUSE:
2 kms. from the town, club house has indoor games facilities which has been located on the left bank of Manalsu Nallah. There are some picnic spots near it.

TIBETAN MONASTERIES:
There are 3 newly constructed colorful monasteries, where visitors can buy carpets and other Tibetan handicrafts. Two are located in the town and one at Aleo on the left bank of Beas river.

MOUNTAINEERING INSTITUTE:
Located 3 kms. on the left bank of river Beas towards Kulu. This Institute organises basic & advance training courses, in trekking, mountaineering, skiing and water sports. Skiing and trekking equipments can be hired from here by booking in advance. Tourists can visit an interesting showroom here.

VASHIST HOT WATER SPRINGS AND TEMPLE (3 kms):
Vashist, a small village located on the left bank of river Beas towards Rohtang pass is worth a visit. It is renowned for its hot springs and temples. Nearby is the pyramidal stone temple dedicated to Vashist Muni. There is another Temple of Lord Ram here. Natural hot sulphur springs with two separate bathing tanks for gents and ladies are always full of tourists. Turkish style showers fitted baths have also been built nearby. Hot water from the nearby spring is provided for bathing.

NEHRU KUND:
5 kms. on National Highway to Leh,a natural spring of cold clear water named after Pt. Jwahar Lal Nehru, who used to drink water from this spring during his stay in Manali. This spring is believed to originate from the Bhrigu lake situated high-up in the mountains.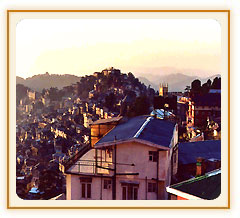 SOLANG VALLEY:
13 kms. is a splendid valley between Solang village and Beas Kund. Solang valley offers the view of glaciers and snow capped mountains and peaks. It has fine ski slopes. The Mountaineering Institute has installed a ski lift for training purpose. Located here is a hut and guest house of the Mountaineering and Allied sports Institute, Manali. Now a few hotels have also come up. The winter skiing festival is organised here. Training in skiing is imparted at this place.

KOTHI:
Situated on the road to Rohtang pass, a picturesque spot, Kothi is 12kms. from Manali. A PWD rest house is situated on a ridge overlooking a narrow valley with a very good view of mountains and valleys. Large number of films (movies) have been picturised at this place and is the ideal resting resorts of poets, writers and the lovers of peaceful environs.

RAHALA WATER FALLS:
16 kms. on way to Rohtang pass. If one goes to Marhi on foot from Kothi from the old road, the sight of the falls is fascinating. It is a good picnic spot as well.

ROHTANG PASS (3979 m):


Shimla - Kufri - Kullu - Manali - Rohtang Pass - Mani Karan - Chandigarh - Pinjore Garden - Kurukshetra
Every Friday - 7 Days Tour
1st Day
Delhi
Dep. 06.00PM
2nd Day
Shimla
Arr. 07.00 AM
Dep. 10.00 AM
Rest for 3 Hrs.
Kufri
Arr 11.00 AM
Dep. 01.00 PM
Shimla
Arr. 02.00 PM
Sight Seeing and night stay at Shimla
3rd Day
Shimla
Dep. 07.00 AM
Manali
Arr. 06.00 PM
Night Stay at Manali
4th Day
Manali
Dep. 07.00 AM
Gulaba & Rohtang Pass
Arr. 11.30 AM
Dep. 04.00 PM
Night Stay at Manali
5th Day
Manali
Dep.07.00 AM
Manikaran
Arr. 12.30 PM
Dep. 03.00 PM
Kullu
Arr. 05.30 PM
Night stay at Kullu
6th Day
Kullu
Dep. 08.00 AM
Pinjore Garden
Arr. 05.00 PM
Dep. 06.30PM
Chandigarh
Arr. 07.00 PM
Night stay at Chandigarh
7th Day
Chandigarh
Dep. 08.00 AM
Sight Seeing : Rose Garden, Rock garden, Sukhana Lake.Upto 1.00 PM/Lunch
Dep. 02.00 PM
Kurukshetra
Arr. 04.00 PM
Dep. 05.00 PM
Delhi
Arr. 08.00 PM
Rates :
Fares Detail

A/c Deluxe Rs. 10,400/-

Transportation charges without accommodation (5 to 11 years)

Volvo A/c Air Bus Rs. 12,000/-

A/c Deluxe Rs. 12,500/-

Transportation charges with accommodation on twin sharing basis

Volvo A/c Air Bus Rs. 14,000/-

A/c Deluxe Rs. 11,900/-

Transportation charges with accommodation on triple sharing basis

Volvo A/c Air Bus Rs. 12,900/-

A/c Deluxe Rs. 14,500/-

Transportation with accommodation on single sharing basis

Volvo A/c Air Bus Rs. 15,500/-

Shimla - Manali - Chandigarh - Kurukshetra Tour : Booking Form