Amarnath Yatra
Amarnath Yatra (Only Once In A Year July/ August Coinciding Sravan Pournima)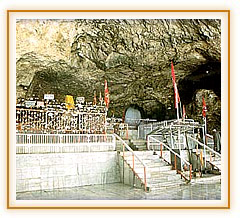 Amarnath: Amarnath is a cave shrine, situated in the Northern State of Jammu and Kashmir. Pilgrimage is organised to this holy shrine coinciding with Sravana Pournima. The Shivalingam at Amarnath is formed of ice and it is popularly known as ICELINGAM. It is the firm belief and trust of Hindus that those who are able to visit this shrine will have no re-birth. One of the holy trinity, Shiva is a living God. The most sacred and most ancient book of India, the Rig-Veda evokes his presence in its hymns. Vedic myths, ritual and even astronomy testify to his existence from the dawn of time. But Shiva, the destroyer, the mendicant, is undefinable: he is the great yogi, the guardian of the absolute. His actions are the themes of the myths in which his nature unfolds.

Legend has it that Shiva recounted to Parvati the secret of creation in a cave in Amarnath. Unknown to them, a pair of mating doves eaves dropped on this conversation and having learned the secret; are reborn again and again, and have made the cave their eternal abode. Many pilgrims report seeing the doves-pair when they trek the ardous route to pay obeisance before the ice-lingam (the phallic symbol of Shiva).

According to an ancient tale, there was once a Muslim shepherd named Buta Malik who was given a sack of coal by a Sadhu. Upon reaching home he discovered that the sack, in fact, contained gold. Overjoyed and overcome, Buta Malik rushed back to look for the sadhu and thank him, but on the spot of thier meeting discovered a cave, and eventually this become a place of pilgrimage for all believers. Amarnath is situated in a narrow gorge at the farther end of Lidder valley, It stands at 3,888 mts and is 46 Kms from Pahalgam and 141 Kms from Srinagar.

Visit to the Amarnath Shrine is like a visit to heaven and for those who journey with faith, it is a rewarding experience, this simple visitation to a cave shrine, the home of the Himalayan mendicant who is both destroyer and healer, the greatest of the Hindu gods.

Tour Detail

Delhi Jammu Amarnath Katra Amritser Kurukshetra



Day

Time

Place of Visit

Night Halt
1st Day

3.00 PM

Departure from New Delhi to Jammu

Night Journey
2nd Day

6.00 AM

Arrival at Jammu. After bath & breakfast, visit Raghunath Temple and proceed for Pahalgam

Night halt
3rd Day

Pahalgam

Night halt
4th Day

Pahalgam to Chandanwari by Jeep
(The charges will be approximately Rs.50 - 150 per head)

Chandanwari to Seshnag by pony/walk

Night halt
5th Day

Seshnag to Panchtarni/Amarnath-Panchtarni

Night halt
6th Day

Panchtarni to Seshnag

Night halt
7th Day

Seshnag to Pahalgam

Night halt
8th Day

Pahalgam to Srinagar

Night halt
9th Day

Srinagar to Katra

Night halt
10th Day

Katra -Vaishnodevi -Katra

Night halt
11th Day

Katra -Amritsar

Night halt
12th Day

Amritsar -Kurukshetra -Delhi

Total Duration of the tour is 10 to 12days

Rates :
Fares Detail
A/c Deluxe Rs. 5500/-
without accommodation
A/c Deluxe Rs. 10500/-
with accommodation (twin sharing)
A/c Deluxe Bus Rs. 10100/-
with accommodation (tripple sharing)
Volvo AC Bus Rs. 7500/-
without accommodation
Volvo AC Bus Rs. 12500/-
with accommodation (twin sharing)
Volvo AC Bus Rs. 12100/-
with accommodation (tripple sharing)
Note : Non AC accommodation for 5Nights (Jammu 1night, Srinagar 2night, Katra 2night).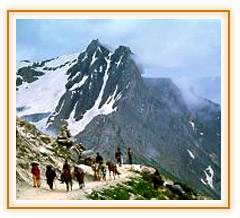 General information for Pilgrims
» Two nights halt is provided at Pahalgam as per the programme. This provision is made to make up time delay in any other places on account of landslides/hold up by Military Authorities. If necessary, the duration of stay at Pahalgam will be reduced to one day depending upon the circumstances. Our Guide Tour Escort, who will be coming with the Bus , will make necessary adjustments. However, we will ensure to show you all the places.

» Please bring canvas shoes, woollen clothes, torch light, raincoat, water bottles and eatables like tinted foods, biscuit,sugar, milk powder, etc. All medical facilities during the yatra will be provided by the Government, free of cost. However, do carry your personal medical kit also.

» The Government is making elaborate security arrangements. All tourist Buses going beyond Udhampur are escorted by military.

» Accommodation charges at all places will have to be borne by the pilgrims which will be approximately Rs.175/- per head per night. Government and Private parties are arranging tented accommodation. Our guide, who will be accompanying the pilgrims, will arrange the same at various places depending on the availability, at your cost.

» Pony/Doly charges from Katra to Vaishnodevi and from Pahalgam to Amarnath and back will be at your cost.

» Depending on the political situation, we will divert our Buses from pahalgam to Srinagar and show you important places there. We are not charging anything extra for sight-seeing at Srinagar and hence kindly do not claim any refund, if Buses do not go to Srinagar.

» "South Delhi Travel Centre" reserves the right to make changes enroute or omit any places of visit, if it is absolutely necessary.

» Our Buses are allowed to go upto Pahalgam only. Thereafter, you will travel from Pahalgam to Chandanwari by Jammu & Kashmir State Road Transport Corporation Buses/Jeeps and then up to Amarnath by walk/pony at your cost.

» The approximate charges, per head, for pony from Katra to Vaishnodevi and back, from Chandanwari to Amarnath and back will be Rs.500/- and Rs. 2000/- (opproximately) respectively, will be extra.





Amarnath Yatra : Booking Form