Kullu - Manali- Dalhousie - Katra - Chandigarh Tour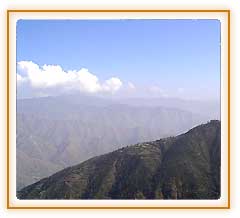 Kullu Tour:
Kullu has a unique charm. Long regarded by the ancient Hindus as the furthest limit of human habitation - Kulantapitha - its original name is mentioned even in the Ramayana and the Mahabharata. Kullu is famous for its Dussehra celebrations as also for its Red Delicious, Royal Delicious and Golden Delicious apples. Each season has its special charm as do the helpful and charming people of this valley.
Places to see :
Raghunath Temple : In the 17th century, Raja Jagat Singh of Kullu committed a great mistake. To atone for the sin, he sent a senior courtier to Ayodhya for a statue of Lord Raghunath - Lord Rama. This temple was built by Raja Jagat Singh to house the image and even today, is greatly revered. Every year international fair Dussehra is celebrated with local deities in honour of lord Raghunath.

Shringi Rishi Temple- Banjar : About 60 km. from Kullu is Banjar valley wherein Shringi Rishi Temple is located. Shringi Rishi is the ruling deity of Banjar valley. In fact, before the Lord Rama's advent into Kullu valley from Ayodhya Puri, Lord Shringi was the ruling deity of Kullu. Shringi rishi is one among the "atthara kardoo" (eighteen chief deities) of the Kullu valley.

Maha Devi Tirth Temple : Maha Devi Tirth Temple Shri Mahadevi Tirth, popularly known as Vaishno Devi Mandir (by localities), situated about two kilometers North from the Kullu valley on Kullu Manali road, though a newly founded temple, yet it is acknowledged like any old famous temple. The foundation of this temple was laid by [Swami Sewak Das Ji].

Bijli Mahadev : Bijli Mahadev Temple is one of the most excellent forms of art in India. It is located at 2,435 meters from sea level and is about 10 km from Kullu. The staff of the temple is 60 feet high and can be seen from the Kullu valley too. It is the highest point around Kullu from where the beautiful view of the whole town, and more can be experienced.
Devta Narsingh:
Temple of Devta Narsingh is a famous temple of deity 'Narsingh' and situated in Sultanpur block of Kullu.
MONUMENTS AND SIGHT SEEING SPOTS

HADIMBA TEMPLE:
Manali has many attractions but the chief centre of interest, historically and archeologically, is undoubtedly the DHOONGRI TEMPLE dedicated to goddess Hadimba, the Bhim of Mahabharat fame. It has four-tiered Pagoda shaped roof and the doorway is carved with legendary figures and symbols. This temple located amidst wooden forest of deodar is about 2.5 kms. from the tourist office. It is a pleasant experience to stroll in the temple complex which was built in 1533 A.D. A large festival is held here in May.
Dalhouse :
Dalhousie is a hill station in Pradesh, established in 1854 by the British Empire in India as a summer retreat for its troops and bureaucrats. It is built on and around five hills, Kathalagh, Potreyn, Terah, Bakrota and Bhangora.Located on the western edge of the Dhauladhar mountain range of the Himalayas, it is surrounded by snow-capped peaks. Dalhousie is situated between 6,000 and 9,000 feet (2,700 m) above sea level. The best time to visit is in the summer, and the peak tourist season is from May to September. Scottish and Victorian architecture is prevalent in the bungalows and churches in the town.Dalhousie is a gateway to the ancient Chamba Hill State, now Chamba District of the state of Himachal Pradesh of India. This hill region is a repository of ancient Hindu culture, art, temples, and handicrafts preserved under the longest-running single dynasty since the mid-6th century. Chamba is the hub of this culture. Bharmour, the ancient capital of this kingdom, is home to the Gaddi and Gujjar tribes and has 84 ancient temples dating from the 7th–10th century AD.
Katra Tour:
Katra or Katra Vaishno Devi, as it is popularly known, is a small town in Udhampur district of the Indian state ofJammu and Kashmir situated in the foothills of the Trikuta Mountains, where the holy shrine of Vaishno Devi is located. It is located 42 km from the city of Jammu. Katra serves as the base camp for pilgrims who visit Vaishno Devi . It has a thriving tourism industry that offers plenty of hotels, guest houses, restaurants, dhabas, fast-food joints that fit all kinds of budgets. Free accommodation is provided by some registered trusts in the form of Sarais for the poor.There is another trek (1.5 km) from Vaishno Devi temple for Baba Bhaironnath. It is said that the pilgrimage is not complete until you visit this temple at last. The scenery throughout the trek is picturesque.
Chandigarh Tour:
The Beautiful City, Chandigarh is a well-planned city, known worldwide for its excellent architecture and urban planning. A union territory of India, Chandigarh serves as the capital of Punjab and Haryana states. While on a holiday in Chandigarh you can see several beautiful architectural structures. Chandigarh is also home to a number of well-maintained gardens that offer visual feast to travellers during Chandigarh holidays. Most Chandigarh holiday packages include the nearby city of Mohali which also has many places of tourist interest. Take your pick from cheap holidays in Chandigarh and gear up for a wonderful Chandigarh trip
Kullu - Manali- Dalhousie- Katra- Vaishnodevi- Amritsar- Chandigarh
Every Monday - 8 Days Tour
1st Day
Delhi
Dep. 06.00 AM
Chandigarh
Arr. 11.00 AM
Sight Seeing - Rose Garden, Rock Garden, Pinjora Garden, Sukhana Lake
Dep. 04.30 PM
Mandi
Arr. 08.30 PM
Night Stay at Mandi
2nd Day
Mandi
Dep. 05.00 AM
Manikaran
Arr. 01.00 PM
Visit Gurudwara, Parvati Temple
Hot Spring, Hot Bath
Dep. 04.00 PM
Manali
Arr. 08.30 PM
Night Stay at Manali
3rd Day
Manali
Dep. 08.00 AM
Rohtang Pass
Arr. 12.00 PM
Visit Hadimba Temple & Manali Sight-seeing
Dep. 05.00 PM
Night Stay at Manali
4th Day
Manali (via Kullu)
Dep.06.00 AM
Dharamshala
Arr. 07.30 PM
Night stay at Dharmsala
5th Day
Dharmsala sight seeing and visit TempleDep. 08.00 AM
Dep. 05.00 AM
Arr.06.30 AM
Dep. 07.00 AM
Dalhousie
Arr.11.00 AM
Dep. 01.00 PM
Katra
Arr.09.00 PM
Night stay at Katra
6th Day
Katra to Darbar(Vaishno Devi & back to Katra)
Dep. 05.00 AM
Night stay at Katra
7th Day
Katra
Dep. 05.00
Golden Temple(Amritsar)
Arr.12.00 Noon
Dep. 02.00PM
Jalianwala Bagh
Arr. 02.30 PM
Dep. 04.00 PM
Attari Border or (IndoPak Border) Visit Flag retreat at Wagha Border
Arr. 05.00 PM
Dep. 07.30 PM
Amritsar City
Arr. 08.00 PM
Night Stay at Amritsar
8th Day
Amritsar
Dep.06.00 AM
Delhi
Arr. 08.00 PM
Rates :
A/c Deluxe Rs. 11,300/-
Transportation charges without accommodation
(5 to 11 years)
Volvo A/c Air Bus Rs. 11,800/-
A/c Deluxe Rs. 11,900/-
Transportation charges with accommodation on
twin sharing basis
Volvo A/c Air Bus Rs. 13,400/-
A/c Deluxe Rs. 11,400/-
Transportation charges with accommodation
on triple sharing basis
Volvo A/c Air Bus Rs. 13,000/-
A/c Deluxe Rs. 14,500/-
Transportation with accommodation
on single sharing basis
Volvo A/c Air Bus Rs. 16,400/-

Kullu - Manali- Dalhousie - Katra - Chandigarh Tour : Booking Form