Rajasthan Exclusive Tour
Duration : 22 Nights / 23 Days
Places Covered : Delhi - Mathura - Vrindaban - Agra - Jaipur - Pushkar - Ranthambhore - Kota - Bundi - Chittaurgarh - Bijaipur - Udaipur - Kumbhalgarh - Jodhpur - Jaisalmer - Bikaner - Mandawa - Delhi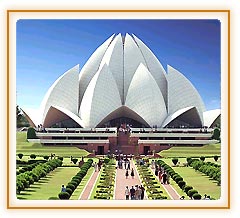 Day 01: Arrival at Delhi
Company representatives will receive you on arrival at the international airport in Delhi late in the evening. Transfer to your hotel. Relax.

Day 02: Delhi - Mathura - Vrindaban - Agra
Proceed for Agra after breakfast.
Reach Agra in the evening.
Check in at hotel and relax. Overnight at Agra.

Day 03: Agra
After breakfast proceed to visit Taj. Enjoy battery van ride to the Taj.
Visit Itmadullah's Tomb built by Empress NOOR JEHAN in memory of her father (The interiors of which are considered better than the Taj).
Overnight at Agra.

Day 04: Agra - Jaipur
After breakfast drive to beautiful Pink City - Jaipur.

Stop at Fatehpur Sikri. The deserted, red Sandstone City, Emperor Akbar built that as his capital and palace in the late 16th century is an exhilarating experience. It a veritable fairytale city and its "ruins" are in pristine condition ... it's not hard to imagine what the court life must have been like in the days of it's grandeur. Also visit the Bulund Darwaza, the largest gateway in the world.
Reach and check in at hotel.
Overnight at Jaipur.

Day 05: Jaipur
Breakfast at hotel.
Proceed for excursion to Amber Fort in the outskirts of Jaipur. Elephant ride Accent to the fort.
Proceed for sightseeing of the city.
Overnight at Jaipur.

Day 06: Jaipur - Pushkar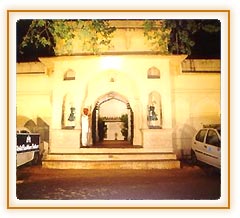 Proceed for Pushkar after breakfast. Reach Pushkar by noon and relax. Check in at PUSHKAR PALACE.
Visit the mausoleum, Anasagar and Akbar's Palace.
Overnight at hotel.

Day 07: Pushkar - Ranthambhore
Visit the BRAHMA TEMPLE - The only one in the world.
Start early after breakfast for Ranthambhore.
Proceed for the afternoon SAFARI to spot tigers.
Overnight at Ranthambhore.

Day 08: Ranthambhore
Full day (two private safaris) at Ranthambhore.
Overnight at Ranthambhore.

Day 09: Ranthambhore - Kota
Proceed for the morning SAFARI. Breakfast at hotel.
Start for KOTA.
Visit the CITY PALACE AND FORT - On the banks of the Chambal river close to the Kota Barrage is the fort and the city palace complex, which houses the RAO MADHO SINGH MUSEUM containing the relics of the former rulers of Kota.
Also visit the Govt. Museum and the famous gardens of Chambal and Chatter Bilas.
Overnight at Kota.

Day 10: Kota - Bundi - Chittaurgarh
Breakfast at hotel. Start for Bundi.
Proceed to CHITTAURGARH.
After visiting the FORT proceed to stay at the BIJAIPUR CASTLE SUITE.
Overnight at the CASTLE.

Day 11: Bijaipur - Udaipur
Start for Udaipur after breakfast.
Reach and check in at hotel.
Udaipur is the jewel of MEWAR -a kingdom ruled by the Sisodia dynasty for 1200 Years.
Relax in the evening.
Overnight at Udaipur.

Day 12: Udaipur
Breakfast at hotel.
Also visit the lovely Sahelion-ki-Bari Gardens, the Jagdish Temple and the local folk Museum.
Overnight at Udaipur.

Day 13: Udaipur - Kumbalgarh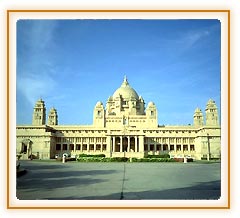 After breakfast drive to Kumbalgarh.
Reach Kumbalgarh.
Stay overnight at the AODHI HOTEL of KUMBALGARH.

Day 14: Kumbalgarh - Jodhpur
Proceed in the morning after a leisurely breakfast and reach Jodhpur.
Relax in the hotel and visit the museum of UMAID BHAWAN PALACE. Overnight at Jodhpur.

Day 15: Jodhpur
Morning go for a village safari in the jeep and have a rare glimpse into the rich culture and true essence of India. Abundant wildlife (game) and memorable moments of the great desert landscape fascinates one while driving along the countryside.
Afternoon sightseeing tour of Jodhpur - gateway to the desert beyond, home of the Rathors of Marwar, visit the Mehrangarh Fort, rising up a hilly scarp, built on the advice of a hermit, overlooking the city in the image of a long sentinel. Inside the Fort are a number of palaces added by successive rulers. In this palace you would see different miniature paintings & cradle room. After this you would visit Jaswant Thada Memorial.
Overnight at Jodhpur.

Day 16: Jodhpur - Jaisalmer
Proceed for Jaisalmer.
Rising from the heart of the Thar Desert like a golden mirage is the city of Jaisalmer. A commanding fort etched in yellow sandstone stands, with its awesome splendor, dominating the amber-hued city.
Reach and check in at hotel. Overnight at Jaisalmer.

Day 17: Jaisalmer
After a relaxed breakfast proceed for full day sightseeing tour of The Golden City - Jaisalmer. It is in the heart of the Great Indian Desert. Its temple, fort and palaces are all built of yellow stone. The city is a mass of intricately carved buildings, facades and elaborate balconies. Visit the JAISALMER FORT - The oldest living Fort in the world. (This is the highlight of the tour)
See the Patwon-Ki-Havelies, Salim-Singh-Ki-Haveli and Gandhi Sagar Tank. Also visit Barabagh Hill.
In the afternoon, proceed to the SAM SAND DUNES for visiting the typical Rajasthani Desert Village. View the sunset from the dunes, as the sky is set on fire. Return to the village for dinner amidst Rajasthani musicians playing haunting tunes. Stay overnight at the SWISS TENT CAMP.

Day 18: Safari
Breakfast at the camp.
Start for JHAMBA CAMPS through the desert in the jeeps. Reach in the afternoon and overnight on camp.

Day 19: Safari to Bikaner
Breakfast at the camp. Continue with the safari and reach Bikaner via NAGAUR.
Check in at hotel.
Relax in the evening. Overnight at Bikaner.

Day 20: Bikaner - Mandawa
Breakfast at hotel. Proceed for sightseeing tour of Bikaner.
Rao Bikaji, a descendant of Jodhaji - the founder of Jodhpur, founded this desert town in the North of the state in 1488. Visit the Junagarh Fort, constructed between 1588 and 1593 by Raja Jai Singh, a general in the Moghul Emperor Akbar's army. The city is also called the "Camel Country". Visit the camel-breeding farm - the only one in Asia. Visit the KARNI MATA TEMPLE.
Proceed for Mandawa.
Reach and check in at hotel. Overnight at Mandawa.

Day 21: Mandawa - Delhi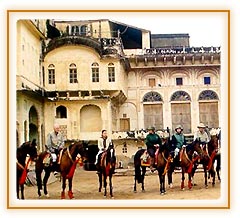 Breakfast at hotel.
Also visit Mahensar and Dundlod meeting the local village chief. Leave for Delhi. Reach by evening. Overnight at Delhi.

Day 22: Delhi
Breakfast at Delhi. Proceed for a full day tour of Old & New Delhi.
Cycle rickshaw ride from Jama Masjid to Chandni Chowk.
Relax in the evening. Overnight at Delhi.

Day 23: Delhi - Home
Breakfast at hotel. Day free to explore the city and finish last minute shopping.
Proceed for the Dance of India Show in the evening at 1800 hr after checking out of the hotel. After the show you will have FAREWELL DINNER before reaching the airport for flight home with sweet memories of India.





Rajasthan Exclusive Tour : Booking Form