45 Seater Luxury Volvo Bus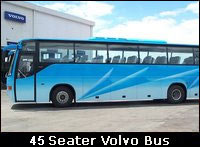 The Volvo 9700 is an exclusive tourist Bus based on our new TX product platform. It offers extremely high levels of technical quality, performance and total economy, as well as of comfort and safety.

The harmoniously colour-matched interior and low interior noise level create a pleasant atmosphere. Large tinted windows and a gently sloping floor ensure good visibility for all passengers. The Volvo 9700 is available in a choice of three heights, with two or three axles, and with a mid-mounted or rear-mounted engine.

Volvo Buses offers tourist Buses designed for efficient, safe and profitable transport. This, combined with outstanding passenger comfort and attractive exteriors, makes our Buses an excellent purchase and a dependable long term Business.




45 Seater Luxury Volvo Bus : Booking Form