Delhi - Katra - Srinagar - Amritsar Tour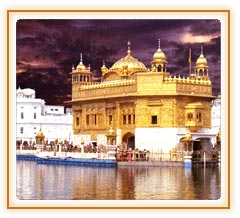 Amritsar: Sri Harmandir Sahib, also know as the Golden Temple in Amritsar is the holiest shrine of the Sikh religion. Also known as the Shri Darbar Shaib, it is in the center of the old part of Amritsar. The Golden Temple sits on a rectangular platform, surrounded by a pool of water called the Amrit Sarovar from which the City is named.
Qutub Minar : - The Minar (tower) was built in the year 1212 A.D and stands at a height of 72.5 meters in the courtyard of the Quwwat-ul-Islam masjid.This is the oldest historical monument in Delhi and is a must for any visitor to this city.

Lotus Temple : - It is the Baha'i house of worship and a fairly recent construction, and is largely admired for its architecture.

Akshardham Temple : - Akshardham is a great Hindu temple complex in Delhi. The complex displays millennia of traditional Hindu culture and architecture. Akshardham attracts approximately 70 percent of all tourists who visit national capital. Also referred as Swaminarayan Akshardham, the temple was inspired by Pramukh Swami Maharaj, the spiritual head of the Bochasanwasi Shri Akshar Purushottam Swaminarayan Sanstha, whose 3,000 volunteers helped 7,000 artisans construct Akshardham.

Red Fort : Built by Shahjahan in the year 1639, the fort was a mini city where about 3000 people lived.

Rajghat : The memorial built for Mahatma Gandhi who was assassinated by a fanatic, and cremated on the banks of the river Yamuna on 31st January 1948.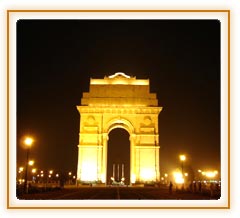 India Gate : Originally known as the All India War Memorial, built in the memory of the 90,000 Indian soldiers killed in the First World War, is a free standing arch with a height of 42.5 meters, designed and built by Edwin Lutyens in 1931.
Katra And Srinagar:Katra is set in the foothills of Trikuta Mountains, at a height of around 2,500 feet above sea level. As the town serves as a base camp for pilgrimage to Vaishno Devi shrine, so it boasts of essential amenities for the visitors. At Katra, you will find a number of good hotels and guest houses, offering accommodation at affordable rates. Besides these, the town also has plenty of eating joints including restaurants, dhabas and fast-food outlets. While on Katra trip, take a leisurely stroll through the main market, where you can buy woollen garments, leather jackets, hosiery, dry fruits and several other items. Dont forget to bargain while shopping in the markets of Katra. Further proceed towards Vaishno Devi shrine either on foot or on a pony. Palanquins are also available at Katra to reach the shrine of Vaishno Devi. Remember, before starting trekking expedition to Vaishno Devi, you need to register yourself at the concerned office in Katra.















Delhi - Katra - Srinagar - Amritsar Tour
Every Friday 5.00 a.m / Return Thursday 8.00 p.m - 07 Days Tour
1st Day
Delhi
Dep. 05.00 A.M
2nd Day
Jammu/Katra
Arr. 8.00 P.M
Katra
Dep. 07.00 A.M
Srinagar
Arr. 05.00 P.M
Night Stay
3rd Day
Srinagar
Dep. 07.00 A.M
Gulmarg
Arr. 10.00 A.M
Dep. 02.00 P.M
Srinagar
Arr. 05.00 P.M
Night Stay
4th Day
Srinagar Sight Seeing
Dep. 08.00 A.M
Back to Srinagar
Arr.04.00P.M
Night stay
5th Day
Srinagar
Dep. 06.00 A.M
Pahalgam
Arr. 09.30 A.M
Dep. 01.00 P.M
Kud
Arr. 06.00 P.M
Night Stay at Kud
6th Day
Kud
Dep. 05.00 A.M
Amritsar
Arr. 02.00 P.M
Visit Golden Temple & Jalianwala Bagh
Dep. 04.30 P.M
Wagah Border
Arr.5.30 P.M
Dep. 08.00 P.M
Amritsar
Arr. 09.00 P.M
Night Stay at Amritsar
7th Day
Amritsar
Dep. 07.00 A.M
Kurukshetra
Arr. 02.00 P.M
Dep. 4.00 P.M
Delhi
Arr. 8.00 P.M
Rates :
A/c Deluxe Rs. 12,700/-
Transportation charges without accommodation
Volvo A/c Air Bus Rs. 13,800/-
A/c Deluxe Rs. 11,900/
Transportation charges with accommodation
on twin sharing basis
Volvo A/c Air Bus Rs. 13,400/-
A/c Deluxe Rs. 11,400/-
Transportation charges with accommodation
on triple sharing basis
Volvo A/c Air Bus Rs. 13,000/-
A/c Deluxe Rs. 16,300/-
Transportation with accommodation
on single sharing basis
Volvo A/c Air Bus Rs. 17500/-

Delhi - Katra - Srinagar - Amritsar Tour : Booking Form