Home
» Luxury Bus Hire India
Luxury Bus Available
15 Seater Luxury Bus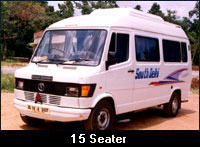 Seating Capacity - 15
Luxury 2x1 Pushback Seat
Air-Condition






18 Seater Luxury Bus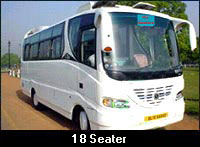 Seating Capacity - 18
Luxury 2x1 Pushback Seat
Air-Condition






23 Seater Luxury Bus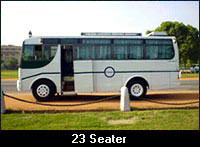 Seating Capacity - 18 to 23
Luxury 2x2 Pushback Seat
Air-Condition








27 Seater Luxury Bus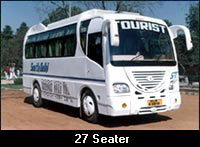 Seating Capacity - 27
Luxury 2x2 Pushback Seat
Air-Condition







35 Seater Luxury Bus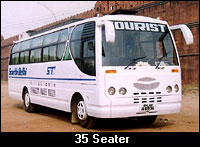 Seating Capacity - 35
Luxury 2x2 Pushback Seat
Air Condition & Heating







39 Seater Luxury Bus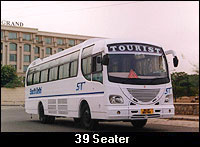 Seating Capacity - 39
Luxury 2x2 Pushback Seat
Air Condition & Heating







45 Seater Luxury Bus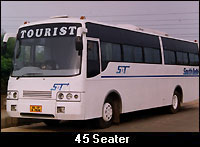 Seating Capacity - 45
Luxury 2x2 Pushback Seat
Air Condition & Heating









49 Seater Luxury Bus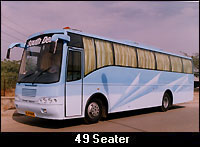 Seating Capacity - 49
Luxury 2x2 Spacious and comfortable seats
Air Condition Type Heating /Cooling
Air Supposition ,mobile charger,Dvd player First aid box Music system Mic facility
Ice box Ample luggage space White seat covers & curtains.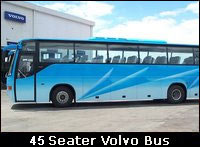 45 Seater Volvo Bus Hire
The Volvo 9700 is an exclusive tourist Bus based on our new TX product platform. It offers extremely high levels of technical quality, performance and total economy, as well as of comfort and safety. The harmoniously colour-matched interior and low interior noise level create a pleasant atmosphere. Large tinted windows and a gently sloping floor ensure good visibility for all passengers. The Volvo 9700 is available in a choice of three heights, with two or three axles, and with a mid-mounted or rear-mounted engine. Volvo Buses offers tourist Buses designed for efficient, safe and profitable transport. This, combined with outstanding passenger comfort and attractive exteriors, makes our Buses an excellent purchase and a dependable long term Business.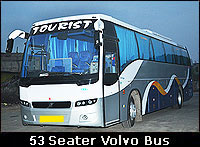 53 Seater Volvo Bus Hire
53 Seater Volvo Bus is suited for a tour including a group of 53 people or less with 2 seats for driver and helper. Our Volvo Buses are custimosed designed from Volvo company. As we care about the clients comfort, hence interiors and exteriors are made comfy and attractive for the customers.These Buses are driven by well experienced drivers who hold expertise in driving and are well aware of all routes leading to the destination.








Luxury Bus : Booking Form